By jbeacham on Jun 4, 2013 in CareerBuilder, For Employers, Press Release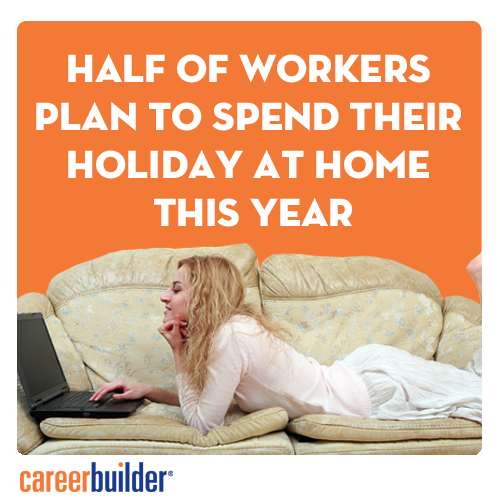 LONDON, 04 June 2013 – As we move into summer, workers may be longing to get away from the office and enjoy a holiday. While 63 per cent of full time workers in the UK say they plan to take time away from work, approximately half (48 per cent) will enjoy their holiday at home and not in an exotic location.
The nationwide survey found that taking a holiday is financially out of reach for one in four workers (24 per cent). An additional 12 per cent say they can afford a holiday, but still have no plans to take one.
"Taking a holiday is not only good for the worker, but the business in general," said Rosemary Haefner, Vice President of Human Resources at CareerBuilder. "Businesses across the UK continue to work with smaller staffs as a result of the economic downturn that continues. Workers who take time off, even if it is just a few days at home, come back refreshed resulting in higher productivity."
The survey reveals several other trends and topics of note:
• Completely disconnecting from the office while on holiday is not always possible – One in five workers (18 per cent) contact work during their holiday. More than a third of managers (43 per cent) say they expect their employees to check with work while on holiday, although most say only if the employee is involved in a big project or major issue going on with the company.
One in ten (11 per cent) employees say they've lied to their boss about being out of reach in order to avoid being contacted while on holiday.
• Missing the family trip – Twenty per cent of workers say they once had to work while the family went on holiday without them.
• Losing out on time off – Nineteen per cent of workers reported they gave up holiday days last year because they didn't have time to use them. Nine per cent relinquished four or more days off last year.
Haefner also suggests the following tips to make the most of your time off:
Involve everyone in your holiday planning – Coordinate your schedule with coworkers and family members so you don't miss big projects or important meetings. You don't want to be stuck spending too much of your time off working.
Inquire about company discounts – Many employers provide travel or personal entertainment discounts to their employees. Be sure you take advantage of these perks as they can help you plan a more affordable holiday.
Do whatever it takes to relax while on holiday - Twelve percent of workers say they feel guilty that they're not at work while on holiday. Paid time off is meant to be enjoyed. Use this time to remove yourself from the stress of work and you'll often find it easier to be more productive when you return to the office.
Survey Methodology
There were 400 people aged 18-70 from the UK involved in our survey.