By Working Girl on May 30, 2013 in Job Search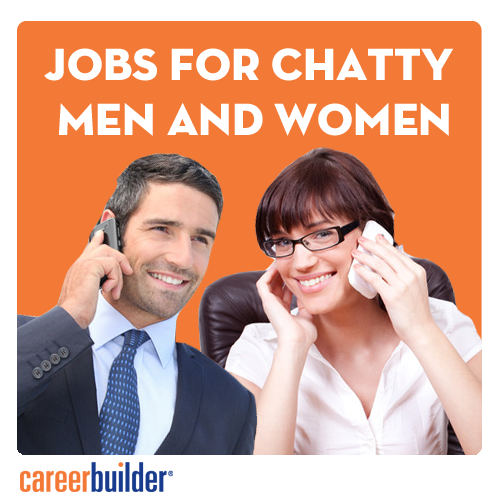 Enjoy a good chinwag? Always being told off by your teacher or boss for nattering when you should be working? Luckily, being a bit of a chatterbox can be an advantage in many jobs.
There has been a swing back toward UK-based call centres among many organisations – which have come to realise that their customers value a familiar experience when speaking on the phone.
As the first point of contact for the public with a company, call centre operatives need to be professional, calm under pressure and reassuring when necessary.
There has been a drive to professionalise the call-centre industry, and it now offers more defined career progression and in-job training than in previous decades.
Entrants to the sector will not usually be required to have any specific qualifications – unless they relate to the industry involved, such as finance for example.
Salary: £12,000 to £18,000 for an operative, up to £24,000 for a team leader*.
If you've got the gift of the gab and get on well with people, sales could be an enjoyable and profitable career for you.
Of course sales is a very broad area – from working as a shop assistant to selling specialist goods or services on a business-to-business basis – but the key requirements of an out-going personality and good communication skills remain the same.
Sales jobs typically have low base salaries, which get bumped up by bonuses – paid according to the level of sales achieved.
The ways into sales are as varied as the jobs within the sector and there are opportunities for everyone from school leavers to graduates. Specific training is often provided on-the-job.
Salary: Pay varies considerably, from £15,000 at the bottom of the ladder to £100,000-plus at the top*. The average sales salary for 2012 was £34,000**.
Most good communicators know that listening effectively is just as important as talking.
Good communication skills are essential to being a counsellor. You might not always say a lot – but you need to know just the right thing to say to set your clients at ease and help them get the most out of their time with you.
You must be able to challenge clients in a positive way and to discuss their thoughts and experiences with a non-judgemental attitude.
While people enter counselling from many different backgrounds, there are several defined paths for training and accreditation within the profession.
There is no statutory admission to working as a counsellor, but many choose to join the British Association for Counselling and Psychotherapy (BACP) or the UK Council for Psychotherapy (UKCP).
To be regarded as a fully qualified counsellor by the BACP, members must progress through a three-stage learning and training process which usually takes several years and involves a minimum of 400 hours of study.
Salary: £19,000 to £40,000*.
If you enjoy public speaking, have a background in history and culture, and know how to tell a story, then working as a tour guide might be for you.
Sightseeing tours, historic themed walks, museum tours and coach trips all require somebody to play host and hopefully entertain and inform the paying guests at the same time.
The drawbacks are weekend work and low-to-average salaries – but the non-financial rewards can be considerable and you'll be working with different people every day.
In addition to solid communication skills, you'll benefit from having a good memory for facts and dates. Although qualifications are available, there is no specific career path to become a tour guide.
Work tends to be seasonal and job security can be low – but there may be opportunities to spot a niche in the market and go self-employed.
Salary: Minimum wage is likely for many roles. The average salary for the leisure and travel sector in 2012 was £18,366**.
TV presenter
Television is a notoriously competitive industry – which offers less job security than most – but it can also be lucrative, interesting and a lot of fun.
TV presenters have a good way with people, can ad lib when necessary and have the ability to stay cool under pressure. Flexibility, teamwork and a good memory are also useful attributes.
There is no defined career path, but some TV presenters have come to their jobs via journalism, while others have emerged from behind-the-camera jobs – and there is also a growing trend for experts in a specific field to be recruited for programmes.
Going to drama school or taking acting lessons can also provide a useful preparation for being in front of the camera.
Networking is even more important in TV than it is in other industries – along with the ability to spot and create opportunities.
Most presenting jobs are freelance contracts, with more than half of the jobs being located in London. The rest of the jobs are mainly distributed around the regional media production centres.
Salary: The BBC suggests a pay scale of £14,000 to £100,000-plus, from trainee presenter to household name.
* Salary information taken from the National Careers Service (available from Direct Gov)
** Salary information taken from the ASHE 2012 Annual Survey of Hours and Earnings (available from the Office of National Statistics).