By jbeacham on May 7, 2013 in Job Search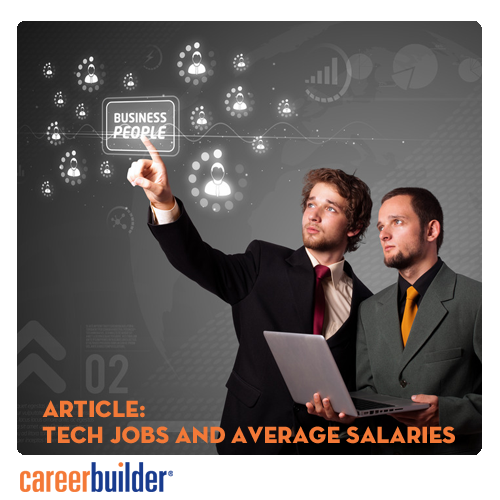 It's never been a better time to be in Technology. The growth of this industry in the UK is rising and doesn't appear to be slowing down. East London has been re-branded as Tech City. Major multi-nationals have committed to move to the area to help launch this initiative.
techcityuk.com refers to its location as "Europe's centre of innovation and the location of choice for tech and digital companies and investors". The job market is changing. The way we seek employment is becoming more technical, be it via apps or applying directly for positions on our phones or tablets. Start-ups, existing small, medium and large companies are all starting to implement technology to increase productivity and keep up with the times. Here are some technology jobs that are on the market today along with the average salary for technology driven positions.
Computer Systems Analyst
Spend your day analysing data processing systems and working on making computer systems more effective and efficient. A computer analyst would work with business managers and owners to understand and determine what specific computer systems need to do. They may work as a middleman between a client (internal or external) and the developer to improve IT solutions.
Average Yearly Salary: £32,063
View Computer System Analyst positions by clicking here
System Developer
Systems developers work on the internal operations of computers, using existing systems or incorporating new technologies to meet particular needs. They test, diagnose and resolve system faults. System developers play an important part in making a business more efficient and helping to provide a better IT service.
Average Yearly Salary: £28,051
View System Developer positions by clicking here
Web Developer
A web developer has the creative task of designing, optimising and maintaining websites. Knowledge of HTML, CSS, PHP, JAVA and AJAX is usually essential for this type of work. A web developer is in charge of designing how the site works and how it looks. They can also be involved with the maintenance and update of sites.
Average Yearly Salary: £24,529
View Web Developer positions by clicking here
Infrastructure Project Manager
The infrastructure of information technology comprises of hardware systems, software, network connections and servers. An infrastructure project manager is the solely responsible for managing various IT infrastructure needs of the organization in general or a project in particular.
Average Yearly Salary:  £44,323
View Infrastructure Project Manager positions by clicking here
Digital Marketing Manager
The Digital Marketing Manager oversees the digital marketing strategy for the company. Devising strategies, tracking conversion rates, managing social media, managing online campaigns and analysing competitor data are just a few of the tasks carried out by a digital marketing manager.
Average Yearly Salary: £34,699
View Digital Marketing Manager positions by clicking here
User Experience Designer
A UX designer studies and evaluates how users feel about a particular system. They measure elements such as how easy the system is to use, utility, efficiency and perception.  Taking these into consideration a UX designer would implement a strategy to improve the user's experience.
Average Yearly Salary: £29,580
View User Experience Designer positions by clicking here
*Salaries based on http://www.payscale.com/