By jbeacham on Apr 25, 2013 in Workplace Issues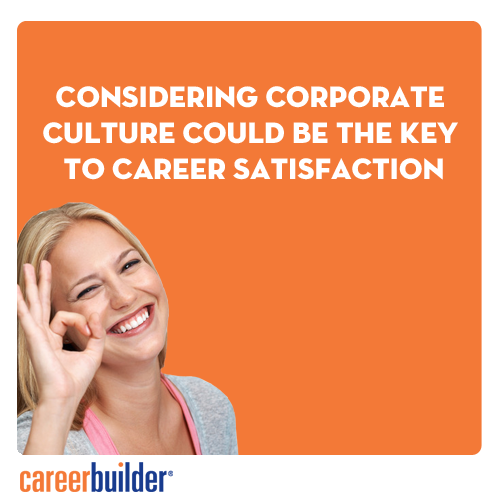 The three main selling points for most job seeker are location, salary and benefits; overlooking corporate culture which could be the driving force to career satisfaction.  Company values are the behaviours and skills that are valued in employees across the whole company. Studies show that finding an organisation which exhibits values you value maybe the key to job satisfaction.
It is important to have a basic understanding of a company's culture before you attend an interview, or even apply for the position. Are you a perfect match? Do you have the same personal goals and expectations? If the answer is yes, then that company could be the company for you. Researching the company prior to an interview will make you stand out from your competition.  Reference the company values when talking about previous experience and relate them to examples. For example; if one of the values is "Passion", you could relate this to a point in your career where you pushed an idea or went out of the way to drive success for a previous employer.
A majority of job seekers desire a career where they can progress, be promoted and be happy in their role. Employees that abide by the company values and go above and beyond expectation will be ahead of the rest; when promotions or development opportunities arise. It is important to understand, from the start, what the company expects from you, rather than what you expect from the company.  When attending an interview you should ask appropriate questions to gain an in-depth understanding of what is expected.
Some of the questions to ask are:
What are the main company values?
What determines performance evaluations?
Do you have an open door policy?
What is the environment like here?
What development opportunities are in place?
These questions will show that you are looking to understand, use and develop your skills in accordance with company values.
Netflix famously published a slide-share exploring their company values (below). It is a document referred to by the Facebook COO Sheryl Sandberg as "The most important document ever to come out of the Valley", the document explores the values and corporate culture of Netflix and is a great example of an employer that take pride in having these guidelines in place.
If you are looking to retain a job and be happy and successful, company values should be high priority. It is something that is often ignored and that most job seekers haven't even considered, hopefully by understanding them, you will soon be starting your career with a company you are happy in.
What values do you most desire in an employer? Leave us a note in the comments.